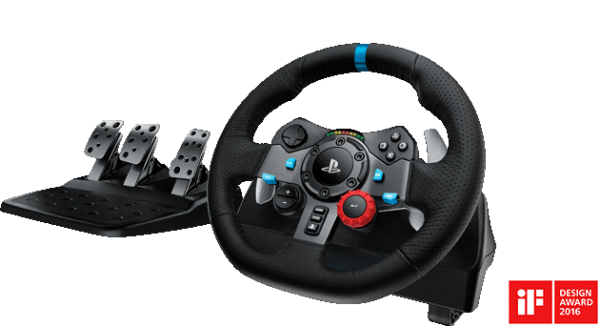 Includes pedals & gear-shifter; can be used with all editions of SimuRide.
$40 shipping in the lower 48 states
Other Destinations should contact us for the shipping quote
We're sorry, the steering wheel can't be sent to a P.O. Box.
Product Description
For SimuRide Professional Edition – Driving Simulator the G29 LogitechSteering
Wheel is required; this type of steering wheel can also be used for Commercial or
Home Edition SimuRide.
Package Content
Gxx Racing Wheel
Shifter Module
Gas, Brake, Clutch Pedals
Power Supply
Software CD-ROM
User Documentation
Additional Information
Six-speed shifter & Sequential shift mode
11-inch leather-wrapped steering wheel rim
900 degrees of wheel rotation & Force Feedback
Buttons & Controls
1 x Gearshift Lever & 1 x Tact Switch
3 x Pedal
The unique dual-motor force feedback transmission delivers powerful,
high-fidelity force effects to the hand-stitched leather wheel, so
you can feel under and over-steer. The Logitech G27 has been discontinued. The G29 is the next generation driving controls.

1 Year Limited Warranty provided by Logitech; Technical Support
http://logitech-en-amr.custhelp.com/cgi-bin/logitech_en_amr.cfg/php/enduser/ask.php