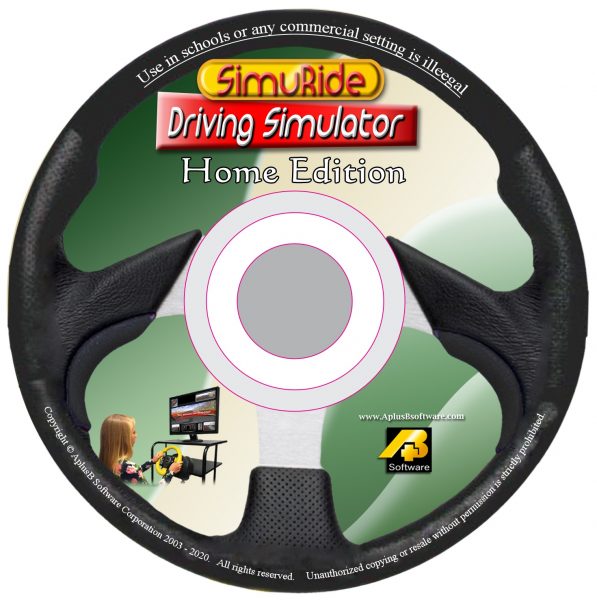 This is a newest edition of SimuRide HE
Product Shipping

US Lower 48

($10.00)

Other Destinations

($17.00)
Product Description
Practice all the basic and essential driving skills you'll need for the road with a realistic 3D driving simulation program for your computer.
Sharpen skills such as parallel parking, merging, and passing with any plug-and-play computer steering wheel set.
Become comfortable enough with driving to remember to routinely look around, check blind spots, use mirrors, turn signals and headlights, and be aware of your speed. You can make smart driving a habit.
Ready to drive? Take a look through our Web site and learn more.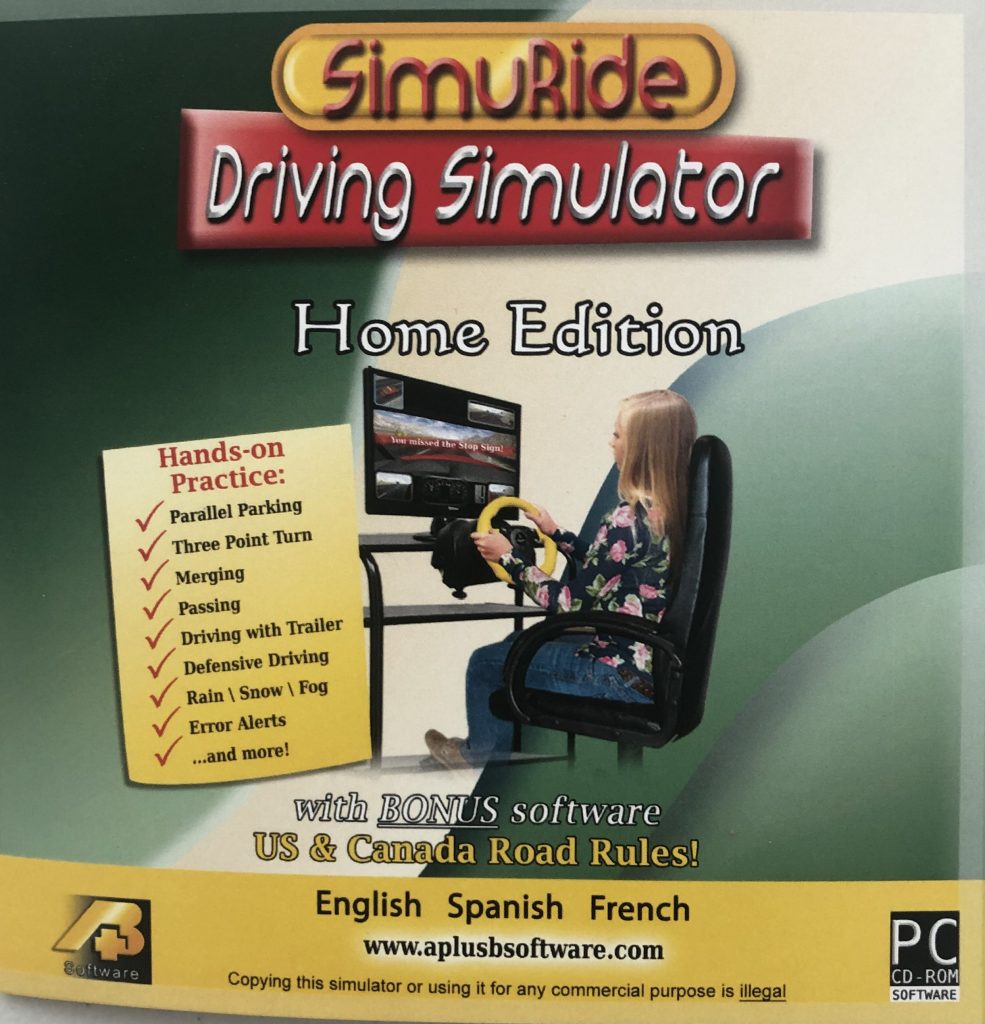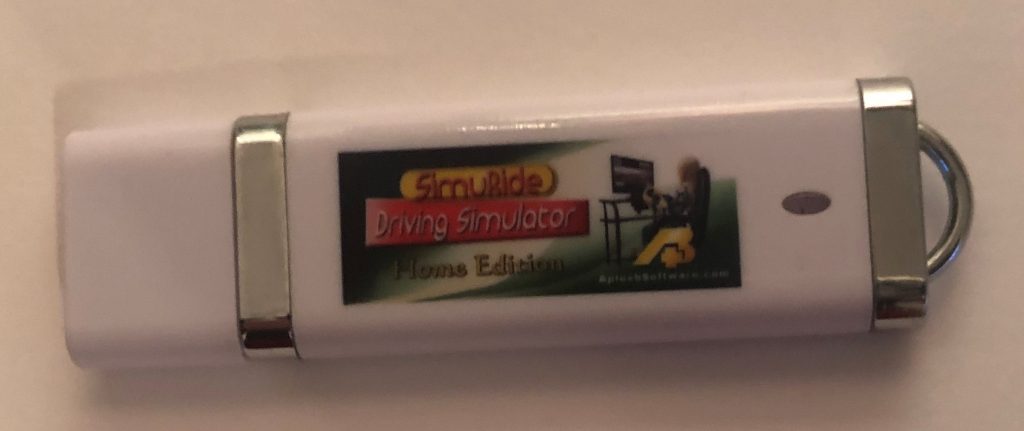 What is the SimuRide Home Edition?

The SimuRide Home Edition (HE) is driving simulator software for the home computer (not for use in schools, or other commercial settings). It is meant for beginner drivers who are studying for their driver's license. The program builds good habits to rely on later in a real driving situation.
It was designed to help new drivers practice more in addition to practicing in a real vehicle. Driving the SimuRide HE does not require parental supervision or a learner's permit, does not use fuel and cannot be damaged in collisions. By practicing on a simulator, students can calmly pick up necessary skills. More practice makes everyone safer.
The program takes the student through a 3D virtual map that includes:
A parking lot
City intersections
A highway
A dark tunnel
A foggy valley
Icy patches
A winding road with falling obstacles
There is no sequence and students are free to practice driving wherever they want.
It teaches students to use an automatic, passenger vehicle with or without a small trailer attached. The software is similar in design to the SimuRide Professional, but it is simplified and runs on a single home computer monitor.
By pressing buttons on the wheel or keyboard, users can turn to look to their left, right, monitor blind spots and directly behind their virtual vehicle for approaching traffic and obstacles.

Lessons on the SimuRide HE
The SimuRide HE conditions students to use their rear-view mirrors, headlights and turn signals. Nervous drivers can get a feel for the steps they have to take when starting a vehicle, turning and parking. When they drive a real vehicle, they will spend less time remembering what they have to do.
Important skills that can be practiced on the SimuRide HE include:
Starting the car and putting it into the right gear (automatic)
Accelerating, decelerating and braking
Being aware of road signage, road signs and traffic lights
Turning and reversing using signals and rear-view mirrors
Parking in a provided space
Parallel parking
Decision making and reacting to moving obstacles and road blocks
Interacting with other motorists on the road and at intersections
Maintaining good driving speed
Passing a moving vehicle
Merging onto a highway
Turning on headlights in darkness
Driving, turning, and reversing with a trailer attached
When to Use the SimuRide HE
The SimuRide HE was designed to learn and increase driving skills, especially if access to a practice vehicle is limited. Students should practice with SimuRide HE before and during practice in a real vehicle. Young children can play on the program in advance and licensed drivers can improve driving skills like driving with a trailer attached. SimuRide HE is great for preparing for a driver's test.
Not all students have access to a practice vehicle, time to practice, or a driving school. Parents or owners of vehicles for practice limit their use when fuel or risk of accident is a large concern. Using SimuRide HE maintains a great amount of practice without using fuel and keeps drivers safe.
SimuRide is a great addition to studying in a school or from a book; furthermore it is much more interesting, fun and engaging.

Computer Requirements
In addition to the SimuRide HE Software, you will need the following hardware:
Your home computer will need the following specifications:
Windows operating system: Windows 11, 10, 8,
RAM 2GB
Minimum graphics card – Nvidia GeForce 7600 GT, 128 MB RAM, 128 Bit Data Bus or ATI Radeon HD 2600 PRO (or any equivalent)